Tennis at the Summit Lodge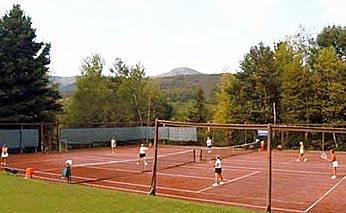 The Summit Lodge has a long history of hosting USTA tournaments, and has been the location for several highly acclaimed tennis schools, including the Killington School for Tennis.
Enjoy practicing your game on one of the Summit's two beautifully maintained red-clay tennis courts! From a light, half-hour hitting session to a full week of tennis camp, we can accommodate your interest, fitness level, and budget to help you become a better tennis player.
Killington Tennis at the Summit Lodge features USPTA certified pro Ken Marisseau, who marks his twentieth year of tennis instruction in 2017. Ken started his tennis career with the venerable Killington Tennis School under the direction of Barry Stout. He achieved his USPTA Pro 2 certification in 2000 while working for Gunterman Tennis Schools at Killington and Stratton VT. He has been the head pro at The Summit Lodge since 2009.
Learning from accomplished teachers has instilled a firm philosophy of making only the smallest effective corrections to a player's strokes, while maximizing ownership of those strokes. This enables players to start utilizing those changes immediately, to become more effective on court without the need for endless practice. After all, Ken understands that tennis is a game, and games are far more fun to play than to study.
---
Tennis Services & Prices
Private lessons: 1 player. $30/ half hr, $45/ hr up to three hours.
Semi private: by the hour. 2 players, similar ability. $60/hr up to three hours.
Group lessons: bring your own group of 3-4 players of similar ability.
½ Day session AM or PM, 2.5 hours. $60 per person.
Full day session, 5 hours. $99 per person.
Hitting Session: $30/ hr, $20/ half hr.
Racquet stringing: $15 per racquet (Does not include string).
Hours: by appointment. Call 802-558-5154 for availability.